Whitetail Deer Hunting Saskatchewan, Canada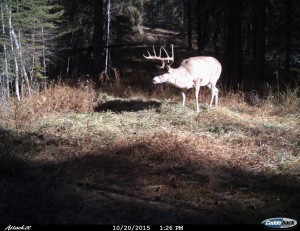 As far as trophy whitetail deer hunts go, Saskatchewan Canada has some of the largest whitetail deer in the world! If you are looking for a Saskatchewan whitetail deer hunt you have come to the right place. We offer archery whitetail deer hunts, muzzleloader whitetail deer hunts and rifle whitetail deer hunts.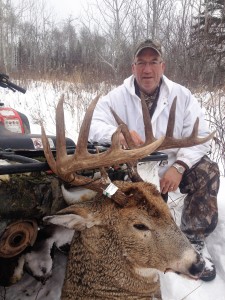 Saskatchewan has become renowned as one of the best places in North America to harvest an outstanding trophy whitetail.
A combination of excellent genes, good habitat, low hunting pressure and the ability to bait, especially in the forested areas . . . greatly enhances your odds of bagging the buck of your dreams.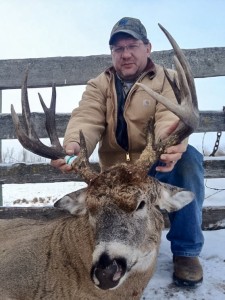 Many visitors to Saskatchewan have experienced "BUCK FEVER" and the unbridled excitement that comes with harvesting the best buck of their hunting careers!
Our harvest rate (with the majority of hunters being repeat customers) has averaged approximately 80% over our 20+ years in business, with the average deer being 135 - 150 points. One in four deer will exceed 160 points, with the chance of a record book buck always a distinct possibility. The live weights of mature bucks usually exceed 230 pounds on most years and occasionally over 300 pounds.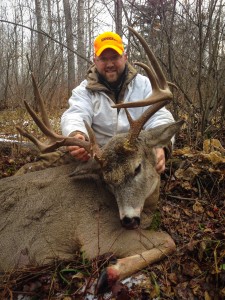 10% of our deer gross over 175 points, although this varies according to hunter selectivity and patience, as well as luck and timing. Weather is the main uncontrollable factor in hunting trophy whitetails.

Our deer hunts are conducted overlooking baited areas while the hunter sits in the comfort of a tower blind or camouflaged tent ground blind. Comfortable chairs and heaters are provided. &nbspPatience and the ability to sit quietly are a prerequisite to taking a "Trophy Whitetail".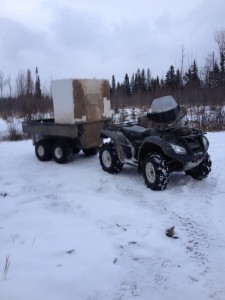 Your guide will take you to your blind in the predawn, where you will sneak quietly into your stand. Even though the majority of bucks are taken mid-day, your dream deer can show up at any time, and experienced Saskatchewan hunters soon learn that all-day vigilance is required. It only takes 5 seconds to bag the "Buck of Your Dreams", as he often appears when you least expect him!!! Our whitetail camp is located 5 miles north-west of Meadow Lake.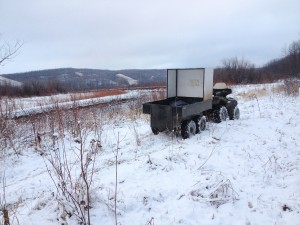 We access our areas by 4x4 and/or ATVs in the more remote areas. Accommodations are modern, clean and comfortable, with home cooked meals. We also have an outpost farm that we hunt on near the Beaver River, 50 miles to the west.
Safari's North Outfitters has been offering quality trophy whitetail hunts for over 20 years in proven areas. We're a small Saskatchewan outfitter that offers personalized service with a family atmosphere. Hunt HEAVY HORNED GIANT whitetail deer in Saskatchewan's Northern Provincial Forest. We guide our hunters on trophy deer hunts in 3 wildlife management zones 67, 68 and 69.
Here's a link to Saskatchewan's Northern Provincial Forest Wildlife Management Zone Map: